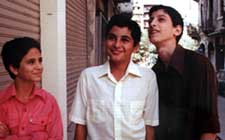 Type:


Feature Film





Director:


Jean Chamoun





Year:


2000





Time:


102 minutes





Language:


Arabic with English subtitles

Official Selection, 2002 Human Rights Watch Film Festival



To escape the civil war between Christians and Muslims, a Lebanese family moves from the countryside to Beirut, only to find themselves caught in an equally dangerous situation

Documentary filmmaker Jean Khalil Chamoun's first fictional film, In the Shadows of the City skillfully employs archival footage to convey the struggles his adolescent protagonist and his family must confront in war-torn Beirut. As he creates a harrowing overview of the conflict that left his country in physical and moral disarray, this talented filmmaker takes a more in-depth look at the underlying factors of the Lebanese Civil War.

"'In the Shadows of the City' skillfully depicts the ravages of war on a vastly personal level." --IslamOnline

This film is available with a Digital Site License (DSL), which allows colleges, universities, or libraries to encode, locally host, and stream the film to their community on a closed, password-protected system.

Rental Information
This film is available from AFD for public screenings and television broadcast. For information regarding rental rates and formats, please contact [email protected] for institutional/non-theatrical screenings, or [email protected] for theatrical, festival, television, or other bookings.