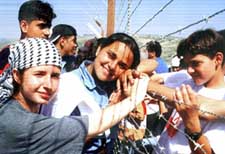 Type:


Documentary





Director:


Mai Masri





Year:


2001





Time:


56 minutes





Language:


In Arabic with English subtitles

Official Selection, 2002 Human Rights Watch International Film Festival



This heartfelt documentary from award-winning filmmaker Mai Masri explores the enduring friendship that evolves between two Palestinian girls—Mona, who was born and raised in the economically marginalized Shatila refugee camp in Beirut, and Manar, who lives in the Dheisha refugee camp under Israeli control.

The two girls begin their friendship as penpals, sharing the similarities and differences of life in the two refugee camps. Mona and Manar are finally able to meet face-to-face at the Lebanese-Israeli border during Israel's withdrawal from South Lebanon. But when the second intifada suddenly erupts around them shortly thereafter, both girls must face heart-breaking changes in their lives.

As in Masri's earlier films, CHILDREN OF SHATILA (1998) and CHILDREN OF FIRE (1990), FRONTIERS OF DREAMS AND FEARS focuses on the difficult plight of Palestinian children while exhibiting an optimism that defies their unbearable circumstances. FRONTIERS OF DREAMS AND FEARS was produced in association with ITVS.

"Frontiers of Dreams and Fears exhibits an optimism that cuts through the cynicism of minds numbed by too much faceless violence on the evening news. Rather than despair, its emotional foundation is hope." --Jim Quilty, Daily Star, Lebanon

This film is available with a Digital Site License (DSL), which allows colleges, universities, or libraries to encode, locally host, and stream the film to their community on a closed, password-protected system.

Rental Information
This film is available from AFD for public screenings and television broadcast. For information regarding rental rates and formats, please contact [email protected] for institutional/non-theatrical screenings, or [email protected] for theatrical, festival, television, or other bookings.