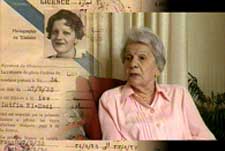 Type:


Documentary





Director:


Wageh George





Year:


1996





Time:


60 minutes





Language:


Arabic with English subtitles

"My father's omnipotence was suffocating. I learned to fly because I love to be free." —Lotfia El-Nadi



In this fascinating documentary, director Wageh George recounts the life of Lotfia El-Nadi, born in 1907 and living in Switzerland at the time this film was made. At the age of 26, El-Nadi traded in her veil for a pair of pilots' goggles and became the first Egyptian woman to fly a plane.

Through this portrait of one remarkable individual, the filmmaker shows how Egyptian women fought for years to obtain equal rights in a patriarchal culture and nation—rights still seriously threatened today.

Sadly, Lotfia El-Nadi passed away at the age of 95 six years after Take Off From the Sand was completed.

This film is available with a Digital Site License (DSL), which allows colleges, universities, or libraries to encode, locally host, and stream the film to their community on a closed, password-protected system.

Rental Information
This film is available from AFD for public screenings and television broadcast. For information regarding rental rates and formats, please contact [email protected] for institutional/non-theatrical screenings, or [email protected] for theatrical, festival, television, or other bookings.