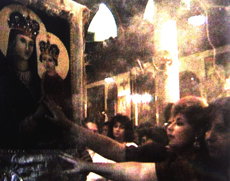 Type:


Documentary





Director:


Viola Shafik





Year:


1999





Time:


54 minutes





Language:


Arabic with English subtitles

While depicting the habits and customs related to the annual fasting dedicated to the Virgin Mary, director Viola Shafik asks her female Coptic relatives to share their stories for the camera.

Mothers, sisters, daughters and nieces from four generations relate stories that demonstrate the changes in education, emancipation and the role of religion in Egyptian society.

This film is available with a Digital Site License (DSL), which allows colleges, universities, or libraries to encode, locally host, and stream the film to their community on a closed, password-protected system.

Rental Information
This film is available from AFD for public screenings and television broadcast. For information regarding rental rates and formats, please contact info@arabfilm.com for institutional/non-theatrical screenings, or info@arabfilm.com for theatrical, festival, television, or other bookings.