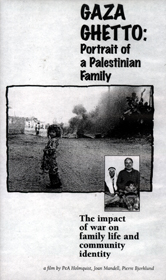 Type:


Documentary





Director:


PeA Holmquist, Joan Mandell, Pierre Bjorklund





Year:


1984





Time:


82 minutes





Language:


Arabic with English subtitles

"Gaza Ghetto should help further the cause of peace in the Middle East by underlining the need for a bold solution to the refugee situation in Gaza Strip and the West Bank." - Stephen Riff, International Jewish Peace Union



Even as the political status of Gaza and the West Bank evolve, the uncertainties and harshness of land confiscations and military occupation remain key. Produced in 1984, GAZA GHETTO explores the very issues that caused the intifada and continue at the heart of the conflict.

Moments of tragedy and joy--a grandmother dies, a child is born--are intercut with scenes in which Israeli politicians, soldiers and settlers discuss responsibility for military occupation. Preparing for school, visiting neighbors, on a family outing, Abu El-Adel's grandchildren are always listening intently to their heritage, anticipating their future from their past.

This film is available with a Digital Site License (DSL), which allows colleges, universities, or libraries to encode, locally host, and stream the film to their community on a closed, password-protected system.

Rental Information
This film is available from AFD for public screenings and television broadcast. For information regarding rental rates and formats, please contact [email protected] for institutional/non-theatrical screenings, or [email protected] for theatrical, festival, television, or other bookings.