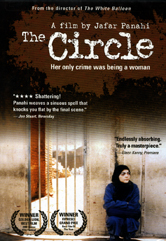 Type:


Feature Film





Director:


Jafar Panahi





Year:


2000





Time:


91 minutes





Written by:


Kambozia Partovi





Edited by:


Jafar Panahi





Language:


In Farsi with English subtitles

Winner! Golden Lion & Fipresci Grand Prix
- Venice Film Festival

"Shattering! Panahi weaves a sinuous spell that knocks you flat by the final scene."
- Jan Stuart, Newsday

"Endlessly absorbing. Truly a masterpiece."
- Glenn Kenny, Premiere



This film is currently out-of-print, but we do have only 1 rare DVD copy for sale!

A woman gives birth to a baby girl. Little does she know, but she and her daughter are already unwanted.

Three women are released from prison and their need for money leads them to take desperate measures.

An unmarried woman seeking an abortion is rejected from her father's house by the violent threats of her brothers.

Their crimes are vague, their guilt or innocence unimportant.

Their paths cross, the suspense of their intrigues heighten. Their plights are often too tragically similar. Their world is one of constant surveillance, bureaucracy and age-old inequalities. But this stifling world cannot extinguish the spirit, strength and courage of the circle of women.