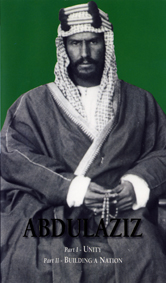 Type:


Documentary





Director:


David Martin and Anthony Wilkinson





Year:


1999





Time:


90 minutes





Language:


Arabic with English subtitles

Now Available on a 2 DVD set!

Two documentary films commemorate the extraordinary life of King Abdulaziz ibn Saud, first King of modern Saudi Arabia. In a reign lasting more than fifty years, King Abdulaziz united his country and laid the foundations for the modern Saudi state. Soldier, statesman and religious leader, he put an end to chaos and insecurity in the peninsula, uniting the regions while strengthening their commitment to Islam. He galvanized development and laid the foundations for the state we see today.

PART ONE: Unity
A daring assault on Riyadh opens this vivid tale of King Abdulaziz's progress towards the unification of the Kingdom. Combining rare archive film with lavish dramatic reconstructions, this film tells the story of battles and diplomacy, courage and religious commitment that brought Saudi Arabia into the modern world. We follow King Abdulaziz as he goes from penniless exile in the deserts to become ruler of most of Arabia and Guardian of the Holiest Places of Islam, Mecca and Medina. In a violent world he brought peace; to a lawless people he brought justice; and he established his Kingdom as a leading independent Arab State. This film tells that story.

PART TWO: Building a Nation
The second film chronicles the less well-known story of the work of King Abdulaziz in building a modern state. Before his time poverty and division had prevented Arabia from developing a modern economy and infrastructure. Unification made it possible to develop water supplies and modern agriculture, to educate his people for the future and to exploit the vast oil-reserves to the benefit of all. All this was done without compromising the country's traditional commitment to Islamic values or jeopardizing the wider Arab cause. Rare archive footage shows the King at work in his palace, presiding over the annual pilgrimage in Mecca, and with world leaders Franklin D. Roosevelt and Winston Churchill. By the end of his life he had created a nation which would be a mainstay of stability in the Arab world.

This film is available with a Digital Site License (DSL), which allows colleges, universities, or libraries to encode, locally host, and stream the film to their community on a closed, password-protected system.

Rental Information
This film is available from AFD for public screenings and television broadcast. For information regarding rental rates and formats, please contact [email protected] for institutional/non-theatrical screenings, or [email protected] for theatrical, festival, television, or other bookings.