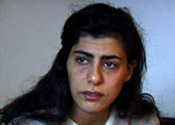 Type:


Documentary





Director:


Jayce Salloum





Year:


2001





Time:


40 minutes





Language:


Arabic with English subtitles

Everything and Nothing creates an intimate dialogue that weaves back and forth between representations of a figure (of resistance) and subject.

The film features interviews with Soha Bechara, an ex-Lebanese National Resistance fighter. She is interviewed in her Paris dorm room after release from captivity in the El-Khiam torture and interrogation center in South Lebanon where she had been detained for 10 years, 6 of which she spent in isolation.

This film is available with a Digital Site License (DSL), which allows colleges, universities, or libraries to encode, locally host, and stream the film to their community on a closed, password-protected system.

Rental Information
This film is available from AFD for public screenings and television broadcast. For information regarding rental rates and formats, please contact [email protected] for institutional/non-theatrical screenings, or [email protected] for theatrical, festival, television, or other bookings.