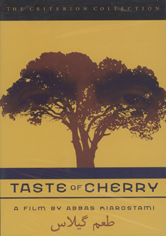 Type:


Feature Film





Director:


Abbas Kiarostami





Year:


1997





Time:


95 minutes





Produced by:


Abbas Kiarostami





Written by:


Abbas Kiarostami





Edited by:


Abbas Kiarostami





Language:


Farsi with English subtitles

Winner! — Palm d'Or, Cannes Film Festival

"The Best Film of the Year." - Richard Corliss, Time Magazine

"A meditative affirmation of life." - Graham Fuller, Interview Magazine



Winner of the top prize at the 1997 Cannes Film Festival, Taste Of Cherry is an existential fable of weight and clarity from director Abbas Kiarostami.

An Iranian man, Mr. Badii, is determined to commit suicide at nightfall, but seeks a living assistant to check his hand-dug grave the following morning. If Badii is dead, the person will fill the grave with dirt; if not, he will help Badii out of the hole - in either event receiving a handsome reward for the task. Badii scours the hills outside Tehran in his Range Rover, explaining the proposition to his passengers one by one.

The candidates - among them a soldier, a seminarian and a taxidermist - react differently to Badii's strange, forbidden request. Each lends new perspective on what it is that makes life worth living.