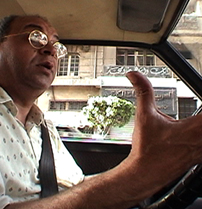 Type:


Documentary





Director:


Arthur Hurley





Year:


2002





Time:


39 minutes





Language:


Arabic with English subtitles

Official Selection!
— Vancouver International Film Festival

Official Selection!
— Planet In Focus Film Festival



Driving an Arab Street takes viewers on a journey along the "Arab street," a monolithic term pundits use to describe Arab sentiment, to find out what people are actually saying about the West and America.

The film follows Egyptian taxi drivers as they navigate the streets of Cairo and share their diverse perspectives on American and Egyptian society, culture, politics, and the relationship between these two civilizations.

Driving an Arab Street is Arthur Hurley's first documentary film. He initially went to Egypt in 1999 to study Arabic at the American University in Cairo. After working briefly as a reporter in California, Hurley returned to Cairo to work as a freelance writer, continue his Arabic studies, and make a documentary that would give insight into Arab and Western relations. He is currently pursuing a Masters in Film at American University.

"Filming Egyptian cabdrivers as they make their way through the pedestrian-clogged streets of Cairo, Mr. Hurley gathers an amazing range of contradictory opinions, ranging from rabid pro-Americanism to equally fervid resentment.
This short film, made before the Iraqi war, does much to accomplish one of Said's goals by shattering the notion of a unified Arab character. The ''other'' we see here is, of course, composed of many, many others, each with a garrulous perspective of his own." --The NY Times

This film is available with a Digital Site License (DSL), which allows colleges, universities, or libraries to encode, locally host, and stream the film to their community on a closed, password-protected system.

Rental Information
This film is available from AFD for public screenings and television broadcast. For information regarding rental rates and formats, please contact [email protected] for institutional/non-theatrical screenings, or [email protected] for theatrical, festival, television, or other bookings.