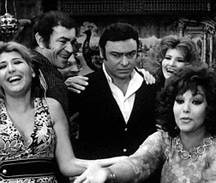 Type:


Feature Film





Director:


Hussein Kamal





Year:


1971





Time:


115 minutes





Written by:


Naguib Mahfouz and Mamdouh Al Leithi





Edited by:


Rashida Abdel Salam





Language:


Arabic with English or French subtitles

"A compelling story and some excellent performances...make this gripping viewing." —Educational Media Reviews Online

"A dutiful adaptation that dares to criticize Egyptian 'progress.'" —John A. Nesbit, Old School Reviews



In Adrift on the Nile we meet a group of hedonistic middle-aged friends who gather each night on a luxurious houseboat for dancing, love-making and smoking hashish. When a young news reporter visits the houseboat to write a story on the group, she is outraged to learn the tragic depths of their social alienation.

Based on the novel by the Nobel Laureate Naguib Mahfouz, this 1971 production offers a revealing look at the Egyptian elite on the eve of the 1967 War. By this time, Nasser had ushered in an age of enormous social change, leaving the sons and daughters of the old bourgeoisie high and dry.

Directed by Hussein Kamal, Adrift on the Nile features the atmospheric cinematography of Mostapha Emam and a delightful musical number in color.

DVD Special Features

Digitally Remastered picture and sound
English and French subtitles
Scene access
Rare original trailer
Filmographies

This film is available with a Digital Site License (DSL), which allows colleges, universities, or libraries to encode, locally host, and stream the film to their community on a closed, password-protected system.

Rental Information
This film is available from AFD for public screenings and television broadcast. For information regarding rental rates and formats, please contact

[email protected]

for institutional/non-theatrical screenings, or

[email protected]

for theatrical, festival, television, or other bookings.