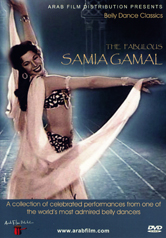 Type:


Documentary





Director:


Various





Year:


2003





Time:


84 minutes

Declared by King Farouk as "the national dancer of Egypt" in 1949, Samia Gamal is one of the world's most famous belly dancers.

Born in 1924 in the small Egyptian town of Wana, Samia Gamal moved to cairo when she was a few months old. It was there that she met Badia Masabni, who invited her to join her dance company. As a soloist, Samia developed an improvisational style that incorporated techniques from both ballet and Latin dances. Her real-life romance with actor Farid Al Atrache thrilled her fans who saw the couple together in such films as I Love You in 1949 and Afrita Hanem in 1950. Still dancing at the age of sixty, Samia Gamal's charismatic film performances helped the art of belly dancing gain worldwide recognition.

Now for the first time, audiences can delight in Gamal's sensual and unique style that combines Arab and Western dance traditions in this collection featuring some of her most celebrated performances ever recorded on film.

DVD Special Features

Digitally Remastered Sound
Scene Access with Film Details
Samia Gamal Filmography and Biography

NOTE: Song lyrics are not subtitled.

This film is available with a Digital Site License (DSL), which allows colleges, universities, or libraries to encode, locally host, and stream the film to their community on a closed, password-protected system.

Rental Information
This film is available from AFD for public screenings and television broadcast. For information regarding rental rates and formats, please contact

[email protected]

for institutional/non-theatrical screenings, or

[email protected]

for theatrical, festival, television, or other bookings.