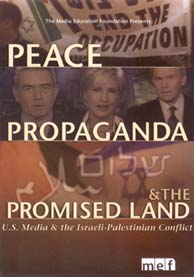 Type:


Documentary





Director:


Bathsheba Ratzkoff & Sut Jhally





Year:


2004





Time:


80 minutes (main feature only)





Produced by:


Bathsheba Ratzkoff & Sut Jhally





Edited by:


Bathsheba Ratzkoff & Kenyon King





Language:


English with Spanish, French, Arabic and Hebrew subtitles

Official Selection!
— Copenhagen International Documentary Film Festival

"Using journalists, scholars, and several moderate Israeli activists, "Peace" is a point-by-point indictment of the American media for being in the thrall of the Israeli PR machine, to the disservice of the truth."
—NY Daily News



The U.S. Media and the Israeli-Palestinian Conflict

This pivotal video exposes how the foreign policy interests of American political elites--working in combination with Israeli public relations strategies--exercise a powerful influence over news reporting about the Middle East conflict. Combining American and British TV news clips with observations of analysts, journalists, and political activists, Peace, Propaganda & the Promised Land provides an historical overview, a striking media comparison, and an examination of factors that have distorted U.S. media coverage and, in turn, American public opinion.

Interviewees include Seth Ackerman, Mjr. Stav Adivi, Rabbi Arik Ascherman, Hanan Ashrawi, Noam Chomsky, Robert Fisk, Dr. Neve Gordon, Toufic Haddad, Sam Husseini, Hussein Ibish, Robert Jensen, Rabbi Michael Lerner, Karen Pfeifer, Alisa Solomon, and Gila Svirsky.

SECTIONS:

Intro
American Media: Occupied Territory
Hidden Occupation
Invisible Colonization
Violence in a Vacuum
Defining Who Is Newsworthy
Myth of U.S. Neutrality
Myth of the Generous Offer
Marginalized Voices
Is Peace Possible?

DVD Disc 1 Features
Main Feature 80 minutes
Interviews 151 minutes
News Clips 64 minutes

DVD Disc 2 Features
Interviews 66 minutes
Short Films 260 minutes
Downloadable PDF of 400 weblinks

Rental Information
This film is available from AFD for public screenings and television broadcast. For information regarding rental rates and formats, please contact

[email protected]

for institutional/non-theatrical screenings, or

[email protected]

for theatrical, festival, television, or other bookings.