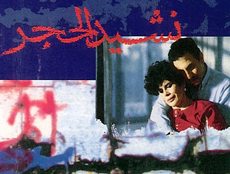 Type:


Feature Film





Director:


Michel Khleifi





Year:


1990





Time:


110 minutes





Language:


Arabic with English subtitles

Official Selection: Cannes Film Festival, 1990

"A very powerful and unapologetically partisan document." —The Philadelphia Inquirer



Canticle of the Stones tells the story of two Palestinian lovers, now in their forties. They had barely fallen in love nearly twenty years earlier when he was imprisoned for political activity. She ran off to the United States to overcome her grief. Years later, she comes back to Jerusalem to study the Intifada's impact on Palestinian society only to find him released from prison. Against a backdrop of resistance and repression, they fall in love again.

This lyrical film strives to fill the gap between fiction and reality. Its poetic dialog is beautifully intertwined with the harsh language of military occupation and resistance. Canticle of the Stones is Michel Khleifi's second feature, after his brilliant film debut, Wedding in Galilee.

This film is available with a Digital Site License (DSL), which allows colleges, universities, or libraries to encode, locally host, and stream the film to their community on a closed, password-protected system.

Rental Information
This film is available from AFD for public screenings and television broadcast. For information regarding rental rates and formats, please contact [email protected] for institutional/non-theatrical screenings, or [email protected] for theatrical, festival, television, or other bookings.