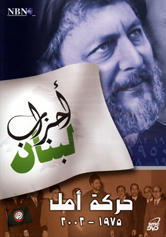 Type:


Documentary





Year:


2003





Time:


180 minutes





Language:


Arabic with English or French subtitles

Amal, meaning "hope," is the popular name of the Shiite political party otherwise known as "The Movement of the Disinherited." The party was founded in 1973 by Shiite cleric Mousa El-Sadr, drawing its initial political strength through its close ties with Iran. Amal evolved into a militia during the Lebanese Civil War, achieving national credibility during the reconciliation conferences in Geneva and Lausanne. The Amal Movement now holds a significant number of parliamentary seats, due largely to the number of people it represents and its successful resistance to the Israeli occupation of the south.

This film is available with a Digital Site License (DSL), which allows colleges, universities, or libraries to encode, locally host, and stream the film to their community on a closed, password-protected system.

Rental Information
This film is available from AFD for public screenings and television broadcast. For information regarding rental rates and formats, please contact [email protected] for institutional/non-theatrical screenings, or [email protected] for theatrical, festival, television, or other bookings.