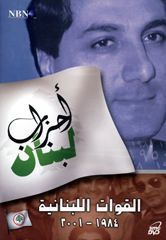 Type:


Documentary





Year:


2003





Time:


83 minutes





Language:


Arabic with English or French subtitles

In 1976, under the leadership of Bashir Gemayel, several Christian militias united under the banner of The Lebanese Forces. Their goal was to combat the Syrian presence in Lebanon and to counter-balance the perceived threat of armed Palestinian forces within the borders. Gemayel maintained close ties with Israel, visiting the nation on several occasions. It is also widely believed that he accepted military supplies and training from Israel. The Lebanese Forces received their official party license in the early 1990s, but their license was later revoked and the party eventually dissolved.

This film is available with a Digital Site License (DSL), which allows colleges, universities, or libraries to encode, locally host, and stream the film to their community on a closed, password-protected system.

Rental Information
This film is available from AFD for public screenings and television broadcast. For information regarding rental rates and formats, please contact [email protected] for institutional/non-theatrical screenings, or [email protected] for theatrical, festival, television, or other bookings.