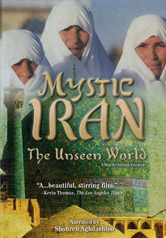 Type:


Documentary





Director:


Aryana Farshad





Year:


2002





Time:


85 Minutes





Produced by:


Aryana Farshad





Written by:


Aryana Farshad & Janelle Balnicke





Edited by:


Aryana Farshad & Beth Spiegel





Language:


English

Winner! Audience Favorite Award, Noor Film Festival

"An exemplary, beautiful, stirring film."
— Los Angeles Times

"Eye-opening. . . an enlightening portrait. . . highly recommended."
— Video Librarian



Academy Award-Nominee Shohreh Aghadashloo (House of Sand and Fog, "24") narrates this award-winning documentary that chronicles filmmaker Aryana Farshad's soul-stirring spiritual odyssey deep into the heart of her native Iran after a twenty-five year absence. At the risk of confiscation of film equipment and the threat of drug traffickers, Farshad embarked on a courageous and unprecedented cinematic tour to capture on film rites and rituals hidden for centuries. From the women's chamber of the Great Mosque, to the temple-caves in the land of Zarathustra, to the sacred dance of the Dervishes in Kurdistan, she gained access to religious ceremonies and locations never before seen by the outside world.

DVD Bonus Feature:
Inside Iran Today

A companion film to Mystic Iran etches a fascinating portrait of a contemporary Iran little seen by the outside world. This program reveals a country of diverse landscapes and dramatic contrasts. Archival footage, artwork, and artifacts chronicle Iran's tumultuous past, while recent footage reveals how ancient traditions and modern ways coexist.