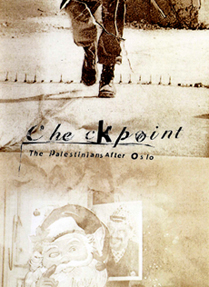 Type:


Documentary





Director:


Tom Wright and Therese Saliba





Year:


1997





Time:


58 minutes





Produced by:


Tom Wright and Therese Saliba





Language:


English and Arabic with English subtitles

"Checkpoint provides an important look at the daily realities of Palestinian life…obscured by the very misleading notion that there is a peace process going on." - Joel Beinin, Stanford University Editor, Middle East Report



The signing of the Oslo Peace Accord in 1993 sparked worldwide hope for a resolution to the Israeli-Palestinian conflict. Checkpoint takes a critical look at this peace agreement and its aftermath. With offbeat humor, warmth and insight, it offers an unorthodox appraisal you won't hear from network soundbites.

This engaging documentary explores recent events—the assassination of Israeli Prime Minister Rabin; the Palestinian takeover of West Bank towns; the first Palestinian elections; suicide bus bombings; Arafat's abuse of power; the growing frustration among Palestinians—that seem to herald a collapse of the historic agreement reached at Oslo. Palestinians and Israelis speak of the contest over Jerusalem, Israeli settlement expansion, the forgotten refugees, and their visions of a just peace.

This film is available with a Digital Site License (DSL), which allows colleges, universities, or libraries to encode, locally host, and stream the film to their community on a closed, password-protected system.

Rental Information
This film is available from AFD for public screenings and television broadcast. For information regarding rental rates and formats, please contact [email protected] for institutional/non-theatrical screenings, or [email protected] for theatrical, festival, television, or other bookings.