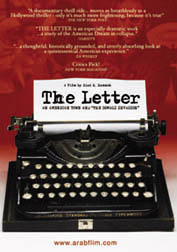 Type:


Documentary





Director:


Ziad H. Hamzeh





Year:


2003





Time:


76 minutes





Produced by:


Ziad H. Hamzeh, Bert Brown, Marc Sandler





Language:


English and Somali with English subtitles

Winner, Best Documentary - 2004 Boston International Film Festival



In The Letter, director Ziad H. Hamzeh explores what American news outlets have dubbed the Somali Invasion of Lewiston, Maine – an insulated, predominantly white former mill town struggling to maintain its equilibrium in the wake of the 9/11 tragedy.

A firestorm of controversy erupts when Lewiston, Maine Mayor Larry Raymond sends an open letter to the 1,100 newly-arrived Somali refugees. He informs them that the city's resources are strained to the limit and asks them to tell other Somalis not to move to the city, a move interpreted as racism by some and a rallying cry by white supremacist groups across the United States.

The Letter documents the ensuing cross-current of emotions and events, culminating in an anti-immigrant rally convened by The World Church of the Creator and a counter demonstration involving nearly 4,000 Lewiston residents supporting ethnic and cultural diversity.

"The Letter is an especially dramatic work of polemical reportage on racism in America." -Variety

"...A must-have for public, high school and college libraries." --Lidwien Kapteijns, H-Net Book Review

This film is available with a Digital Site License (DSL), which allows colleges, universities, or libraries to encode, locally host, and stream the film to their community on a closed, password-protected system.

Rental Information
This film is available from AFD for public screenings and television broadcast. For information regarding rental rates and formats, please contact [email protected] for institutional/non-theatrical screenings, or [email protected] for theatrical, festival, television, or other bookings.