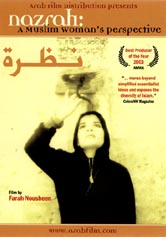 Type:


Documentary





Director:


Farah Nousheen





Year:


2003





Time:


55 minutes





Produced by:


Farah Nousheen





Language:


English

Official Selection, 2005 Other Worlds Are Breathing Film Festival
Winner - Best Film Producer, 2003 National Association of Muslim Women



Nazrah: A Muslim Woman's Perspective is an intimate look at a diverse group of Muslim women living in the Pacific Northwest in the USA. By creating a forum where Muslim women can freely engage in an open dialogue about complex issues, filmmaker Farah Nousheen exposes a vast and fascinating array of thoughts and ideas.

The women discuss their views on Islam, current political events and how they reflect on the image of Islam in the West. They also talk about the difficulty of achieving equality within the Muslim community while fighting stereotypical portrayals of Muslim women in the US media.

Nazrah (the Arabic word for "perspective") also includes director Farah Nousheen's own views on being a Muslim woman at a time when Islam is in the international spotlight.

"Muslim women are often spoken about but rarely do they speak for themselves. Nazrah changes that. In giving Muslim women this important platform to express themselves, Farah Nousheen has deftly made room for the diversity that exists among Muslim women. Nazrah is required viewing that offers a vital antidote to the all-prevailing stereotypical portrayals of Muslim women." --Arabic Women's eNews

This film is available with a Digital Site License (DSL), which allows colleges, universities, or libraries to encode, locally host, and stream the film to their community on a closed, password-protected system.

Rental Information
This film is available from AFD for public screenings and television broadcast. For information regarding rental rates and formats, please contact [email protected] for institutional/non-theatrical screenings, or [email protected] for theatrical, festival, television, or other bookings.