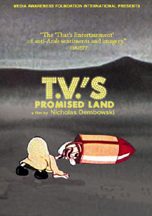 Type:


Documentary





Director:


Nicholas Dembowski





Year:


2003





Time:


75 minutes





Produced by:


MAFI (Media Awareness Foundation International)





Language:


English

"The That's Entertainment! of anti-Arab sentiments and imagery."
—Variety



Disney's Aladdin, Indiana Jones.., Warner Brothers' cartoons of crazed Middle Eastern villains, international terrorists... These are America's pop culture depictions of Arabs and Muslims.

With TV's Promised Land, director Nicholas Dembowski creates a clever montage of found footage from Hollywood movies, cable news networks, European news broadcasts, American Westerns, etc. The accumulated evidence powerfully asserts that Western media has long demonized a catch-all "Arab/Muslim world" via selective coverage and dehumanizing imagery that boosts the "good vs. evil" rhetoric of American neoconservative politicians and pundits.

By offering no narration or commentary of its own, TV's Promised Land lets news outlets, Hollywood filmmakers and politicians incriminate themselves.

This film is available with a Digital Site License (DSL), which allows colleges, universities, or libraries to encode, locally host, and stream the film to their community on a closed, password-protected system.

Rental Information
This film is available from AFD for public screenings and television broadcast. For information regarding rental rates and formats, please contact [email protected] for institutional/non-theatrical screenings, or [email protected] for theatrical, festival, television, or other bookings.