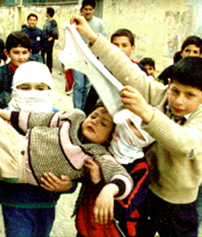 Type:


Documentary





Director:


Mai Masri





Year:


1990





Time:


50 minutes





Language:


Arabic with English subtitles

"Dramatic, bravely filmed...if you closed your eyes you could have been witnessing the Nazi occupation of the Warsaw Ghetto."
óDaily Express



When filmmaker Mai Masri returned to her hometown of Nablus after a fourteen year absence, she discovered a new generation of Palestinian fighters: the children of the Intifada.

Winner of the Award of Public at the Freminin Pluriel Festival, Children of Fire captures their courageous story on film and paints a daring portrait of the Palestinian uprising.

This film is available with a Digital Site License (DSL), which allows colleges, universities, or libraries to encode, locally host, and stream the film to their community on a closed, password-protected system.

Rental Information
This film is available from AFD for public screenings and television broadcast. For information regarding rental rates and formats, please contact [email protected] for institutional/non-theatrical screenings, or [email protected] for theatrical, festival, television, or other bookings.