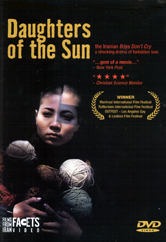 Type:


Feature Film





Director:


Maryam Shahriar





Year:


2000





Time:


92 minutes





Produced by:


J. Kosari





Written by:


Maryam Shahriar





Edited by:


Sh. Pooya





Language:


In Farsi with English subtitles

Winner! Best First Feature
- Montreal Festival of World Cinema

"Brave! Mysterious! Powerful!"
- Cinematheque Ontario

"A gem of a movie."
- New York Post



Honored as Best First Feature at the Montreal Festival of World Cinema, Maryam Shahriar's debut shows an "unusual gift for expressive imagery" (Leslie Camhi, The Village Voice). The movie is in the spirit of The Circle, The Day I Became A Woman, and other recent films about women from the increasingly bold and controversial Iranian cinema. It follows a young woman who disguises herself as a boy so that she can work long, hard hours in a carpet workshop to support her family. Her secret is complicated when a female co-worker falls in love with her.

Altinay Ghelich Taghani's heartwrenching performance as Amanagol forcefully conveys the universal human need for freedom and love. Filled with breathtakingly beautiful and stark images of the rural Iranian countryside, Daughters Of The Sun has been called the Iranian Boys Don't Cry, and is another powerful example of that country's daring national cinema.