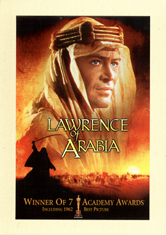 Type:


Feature Film





Director:


David Lean





Year:


1961





Time:


228 minutes





Language:


English

Winner of 7 Academy Awards!



Winner of seven Academy Awards, nominated by the American Film Institute as one of the top 400 American films of all time, this widescreen director's cut is presented in its original theatrical aspect ratio, brilliantly capturing the stunning beauty of the film's desert locations and honoring its Oscar-winning cinematography.

Includes original theatrical trailer and historic, "making of" film short with interviews and behind-the-scenes footage. All-star cast includes Peter O'Toole, Sir Alec Guinness, Anthony Quinn, Omar Sharif, Jose Ferrer and Claude Rains.

Letterboxed. Includes more behind-the-scenes segments, original newsreel footage, marketing and publicity scrapbook, a conversation with Steven Spielberg, and special DVD-ROM features.