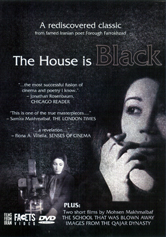 Type:


Short Film





Director:


Forough Farrokhzad





Year:


1962





Time:


22 mins.





Language:


Farsi, with English subtitles

A film of staggering force, lyrically composed by one of the 20th century's leading poets, The House Is Black is a revelation. In the 1960s, lionized poet Forough Farrokhzad directed her first and only film. It depicts the lives and bodies of people tragically deformed by leprosy. This is a film of stirring and powerful images, and a beautifully, tragically poetic narration. The House Is Black has heavily influenced the modern Iranian cinema of such great filmmakers as Abbas Kiarostami and Mohsen Makhmalbaf, who called it "the best Iranian film." It provides, in the film's own words, "a vision of pain no caring human being should ignore." In Farsi with English subtitles.

Includes booklet written exclusively for the DVD with essays by Chris Marker and Jonathan Rosenbaum, biographies of Farrokhzad and Makhmalbaf, video interview with poet Pooran Farrokhzad (sister of Forough Farrokhzad) from PBS series Adventure Divas, and two short films by Mohsen Makhmalbaf: The School That Was Blown Away (1996) and Images From the Qajar Dynasty (1992).