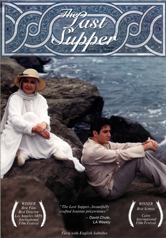 Type:


Feature Film





Director:


Fereydoun Jeyrani





Year:


2002





Time:


96 mins.





Language:


Farsi, with English subtitles

In this searing domestic drama about a very unique love triangle, a professor of architecture history divorces her husband after 26 years of marriage. She returns to the house of her father, along with her supportive daughter, to begin life anew. When a handsome young student enters the picture, the bonds between a mother and daughter are stretched beyond the breaking point. Unable to endure the humiliation, the husband sets off a chain of events that leads to heartbreak and destruction. A fascinating tale of love and revenge from Fereydoun Jeyrani, an exciting new voice from the contemporary Iranian cinema.

In Farsi with English subtitles.