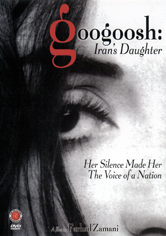 Type:


Documentary





Director:


Farhad Zamani





Year:


2000





Time:


157





Language:


In Farsi and English, with English subtitles

Until the 1979 Islamic Revolution brought her career to a halt, Googoosh was the most famous pop singer in Iran.

Her career began as a child performer and included several film roles, but it was through her recordings that she became a cultural phenomenon. Her stardom influenced some controversial fashions in the tradition-bound nation, including women's short hair styles that remain popular today.

This documentary tells the story of Googoosh, including her recent resurgence as a performer. Interviews and great performance footage show the incredible impact she has had on Iranian society.

Includes photo gallery, rare music tracks and discography, and bonus short films by Farhad Zamani.