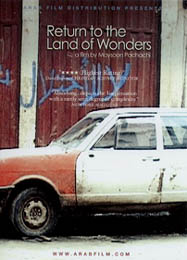 Type:


Documentary





Director:


Maysoon Pachachi





Year:


2004





Time:


88 minutes





Produced by:


Maysoon Pachachi





Edited by:


Maysoon Pachachi





Language:


In English and Arabic with English subtitles

"Absorbing. . . depicts the Iraq situation with a rarely seen degree of complexity."
- NY Magazine

". . . offers an often poignant snapshot of the day-to-day reality of Iraqi life in the wake of the U.S. invasion."
- Video Librarian



Not long after the U.S. invasion of Iraq in 2003, filmmaker Maysoon Pachachi returns to her home city of Baghdad after 35 years. She accompanies her father, 80-year-old Adnan Pachachi, who is returning to head the committee responsible for drafting Iraq's temporary constitution and Bill of Rights.

We follow this tortuous process, with its arguments over wording changes demanded by U.S. leaders in Washington and compromises made to satisfy Iraqi sectarian interests.

Moving between the political sphere and everyday life on the streets, Return To The Land Of Wonders offers a unique glimpse into the resilience of the Iraqi people as they struggle to sustain their lives without succumbing to despair and defeat.

About Adnan Pachachi
Born in 1923, Adnan Pachachi served as Iraqi Foreign Minister in 1966-67 and ambassador to the UN from 1959-65 and 1967-68. Pachachi was based in Abu Dhabi, UAE until 2003, where he had acted as an advisor to Shaykh Zayyid. Pachachi returned to the UAE after the Iraq's Governing Council was dissolved on June 1, 2004.

Official Selection
2005 Cardiff International Film Festival
2005 Mill Valley Film Festival
2005 New Mexico Middle East Film Festival
2005 United Nations Youth Summit in Washington D.C.

This film is available with a Digital Site License (DSL), which allows colleges, universities, or libraries to encode, locally host, and stream the film to their community on a closed, password-protected system.

Rental Information
This film is available from AFD for public screenings and television broadcast. For information regarding rental rates and formats, please contact [email protected] for institutional/non-theatrical screenings, or [email protected] for theatrical, festival, television, or other bookings.