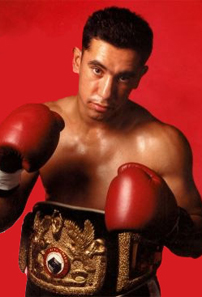 Type:


Documentary





Director:


Duki Dror





Year:


2001





Time:


90 minutes





Produced by:


Duki Dror





Edited by:


Sara Solomon





Language:


In English, Hebrew & Arabic with English subtitles

Winner! — Best Documentary, DocAviv Film Festival
Winner! — Best Documentary, Los Angeles Valley Film Fest
Winner! — Certificate of Merit, San Francisco Film Festival



"I'm the only Arab-Israeli-Palestinian-Muslim-Baptist-American World Champion I know." --Johar Abu Lashin

This enthralling documentary by Duki Dror tells the story of welter-weight boxing champion Johar Abu Lashin, a Palestinian-Israeli born in Nazareth. After winning his first World Title at the age of 21, Abu Lashin celebrated his victory by waving the Israeli flag in the ring, making him a hero to Israelis, but turning the Arab world against him. Rebounding with another win five years later, he waved the Palestinian flag, which set Israelis and affluent Jews against him. Having alienated his Palestinian and Israeli fans, Abu Lashin settled in Johnson City, Tennessee to raise horses with his new wife.

When the dream of peace swept the Middle East in the 1990s, Abu Lashin seized the opportunity for a dramatic comeback that would help win back the hearts of both his Israeli and Palestinian fans. He set to work preparing World Title fights in Nazareth and Gaza in which he would compete, becoming a unifying figure as the two sides negotiated a peaceful resolution to the decades-old conflict between them.

"...bruising but illuminating...Dror's intimate, dedicated camerawork captures the boxer's wrath and dejection..." -NY Times

"...a brilliant documentary!" -YNet Online

"...the magnetic Johar Abu Lashin turns out to be a lightning rod around whom political issues galvanize, and Dror skillfully weaves the personal and political threads together to create a compelling and moving (albeit pessimistic) look at the state of politics and boxing at the heart of the Middle East crisis…Raw and gripping." -DOX Documentary Film Magazine

This film is available with a Digital Site License (DSL), which allows colleges, universities, or libraries to encode, locally host, and stream the film to their community on a closed, password-protected system.

Rental Information
This film is available from AFD for public screenings and television broadcast. For information regarding rental rates and formats, please contact [email protected] for institutional/non-theatrical screenings, or [email protected] for theatrical, festival, television, or other bookings.