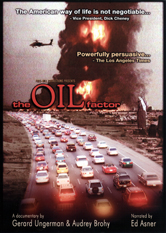 Type:


Documentary





Director:


Gerard Ungerman & Audrey Brohy





Year:


2004





Time:


93 minutes





Produced by:


Gerard Ungerman & Audrey Brohy





Written by:


Gerard Ungerman & Audrey Brohy





Edited by:


Jason Stelzel





Language:


English

"Powerfully persuasive!" —The Los Angeles Times

"Serious and well-researched." —The New York Times



From the directors of Hidden Wars of Desert Storm!

After assessing today's dwindling oil reserves and skyrocketing use of oil for fuels, plastics and chemicals, The Oil Factor questions the motives for the U.S. wars in the Middle-East and Central Asia where ¾ of the world's oil and natural gas is located.

With exclusive footage shot on location in Iraq, Pakistan and Afghanistan, the film documents the spiraling violence now engulfing both Iraq and Afghanistan, a country conspicuously absent from the commercial media's news segments.

With detailed maps and graphics, The Oil Factor features many experts and personalities such as former Defense Advisor Zbigniew Brzezinski, M.I.T. professor Noam Chomsky, the Project for the New American Century Executive Director Gary Schmitt, Coalition Provisional Authority Chairman Paul Bremer, former Pentagon analyst Lt. Col. Karen Kwiatkowski, current Iraqi government official Abdel Aziz Al-Hakim and authors Ahmed Rashid and Michael C. Ruppert.

The Oil Factor is narrated by Ed Asner.

This film is available with a Digital Site License (DSL), which allows colleges, universities, or libraries to encode, locally host, and stream the film to their community on a closed, password-protected system.

Rental Information
This film is available from AFD for public screenings and television broadcast. For information regarding rental rates and formats, please contact [email protected] for institutional/non-theatrical screenings, or [email protected] for theatrical, festival, television, or other bookings.