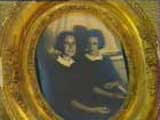 Type:


Documentary





Director:


Jennifer Bing-Canar





Year:


1999





Time:


28 minutes





Language:


English

With introductory and concluding statements by Edward Said, this careful study in oral history is far more than a handful of reminiscences. This video documents the collective nature of the stories from 1948 Palestinian survivors. It describes their daily life before the war, their flight from the conflict and their lives in exile.

Collecting Stories From Exile seamlessly weaves together interviews from the 1948 survivors with scenes demonstrating the process of oral history.

This film is available with a Digital Site License (DSL), which allows colleges, universities, or libraries to encode, locally host, and stream the film to their community on a closed, password-protected system.

Rental Information
This film is available from AFD for public screenings and television broadcast. For information regarding rental rates and formats, please contact info@arabfilm.com for institutional/non-theatrical screenings, or info@arabfilm.com for theatrical, festival, television, or other bookings.