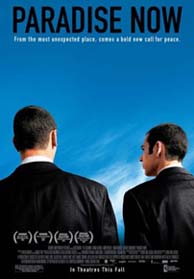 Type:


Feature Film





Director:


Hany Abu-Assad





Year:


2005





Time:


91 minutes





Language:


In Arabic w/ optional English, Spanish or French subtitles

Winner! — Golden Globe, Best Foreign Language Film
Nominated! — Academy Award, Best Foreign Language Film

"The year's most insightful and unvarnished look at the motivations of terrorism." - Newsday



Shot on location in both Palestine and Israel, Paradise Now is an enthralling drama about the possible motivations and actions of two suicide bombers. Director Hany Abu-Assad meticulously researched the subject before co-authoring the script with colleague Bero Beyer, and fought off a few armed Palestinians in Nablus, which is where the bulk of the film's shooting took place.

The story follows two young Palestinian men, Said (Kais Nashef) and Khaled (Ali Suliman), whose lives in the West Bank city have ground to a halt. But when a shadowy figure named Jamal (Amer Hlehel) offers them a shot at martyrdom by carrying out a suicide attack in Tel Aviv, the two men's lives are suddenly invigorated.

The film follows their final days, as they grapple with their consciences, visit family and friends--and in Said's case, a young woman he has been flirting with--and prepare for the attack. But they find both practical and emotional issues stand in their way, leading to an anguished and entirely moving finale to Abu-Assad's film.