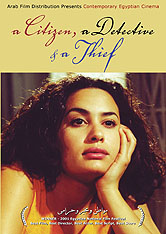 Type:


Feature Film





Director:


Daoud Abdel Sayed





Year:


2001





Time:


135 minutes





Language:


Arabic with English subtitles

"Colorful. . . an intriguing effort from an area of the world whose pictures don't reach American shores often enough."
- Video Librarian



An engrossing comedy-drama that examines issues facing Egyptian society today, A Citizen, A Detective And A Thief features Egyptian heartthrob Khaled Abol Naga as Selim, a handsome and successful writer who triggers an elaborate chain of events when he visits police headquarters to report his car stolen. There he runs into the bumbling Sergeant Fathy Abdel Ghafour, an old family friend who now works as a detective. When the meddlesome Sergeant Fathy insists on hiring a live-in housekeeper for his old friend, Selimís life becomes inextricably intertwined with that of his beautiful new housemaid, her thieving husband and the well-meaning detective.

Director Daoud Abdel Sayed elicits excellent performances from his all-star cast, including Salah Abdallah, Hend Sabri and musician Shaaban Abdel Rehim, who contributes several songs to the proceedings. Although the film caused controversy with its frank sexuality and its daring critiques of censorship, police inefficiency and the snobbery of the intellectual class, A Citizen, A Detective And A Thief was a huge hit with Egyptian audiences and throughout the Middle East.

This film is available with a Digital Site License (DSL), which allows colleges, universities, or libraries to encode, locally host, and stream the film to their community on a closed, password-protected system.

Rental Information
This film is available from AFD for public screenings and television broadcast. For information regarding rental rates and formats, please contact [email protected] for institutional/non-theatrical screenings, or [email protected] for theatrical, festival, television, or other bookings.