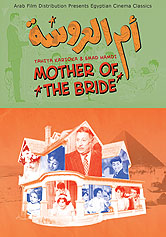 Type:


Feature Film





Director:


Atef Salem





Year:


1963





Time:


102 minutes





Written by:


Abdel Hamid Gouda





Language:


Arabic with English or French subtitles

This magnificently madcap comedy classic stars Egyptian film legends Tahiya Karioka and Emad Hamdi as Zeinab and Hussein, overworked parents who get little relief from the never ending demands of their seven mischievous children.

When their eldest daughter, Ahlam, meets a dashing young man at a party, itís love at first sight and wedding plans must quickly be arranged. As preparations get underway, Zeinab and Hussein are soon overwhelmed by the elaborate and costly requests made by the groomís extravagant family. While tending to the needs of their other six children, Hussein and Zeinab must consider unconventional means to obtain the funds for a ceremony that the newlyweds will be proud of.

Filled with entertaining turns by a colorful cast of characters, Mother of the Bride explores Egyptian courtship and marriage customs of the 1960s while relaying a delightfully entertaining story the entire family will enjoy.

DVD Special Features

Digitally remastered picture and sound
English and French subtitles
Scene access
Promotional material
Cast & crew information
Director Atef Salem's comments on making of the film (Arabic language only)

This film is available with a Digital Site License (DSL), which allows colleges, universities, or libraries to encode, locally host, and stream the film to their community on a closed, password-protected system.

Rental Information
This film is available from AFD for public screenings and television broadcast. For information regarding rental rates and formats, please contact

[email protected]

for institutional/non-theatrical screenings, or

[email protected]

for theatrical, festival, television, or other bookings.