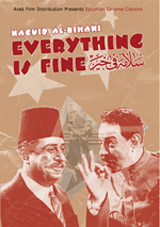 Type:


Feature Film





Director:


Niazi Mostafa





Year:


1937





Time:


98 minutes





Language:


Arabic with English subtitles

Hailed as one of the greatest Egyptian comedies of all time, Everything Is Fine stars Egyptian theatre legend Naguib El Rihany as Salama, a humble office clerk whose routine bank-deposit errand quickly evolves into the adventure of a lifetime.

After finding the bank closed and the streets seemingly swarming with thieves, Salama decides to place the company money in a safe at the luxurious Nefretiti Palace Hotel. But things go hilariously awry when the hotel manager mistakes him for an eagerly-awaited guest, the wealthy Prince Kandahar of Bloudestan.

As in the early films of The Marx Brothers and other timeless screwball comedies of the 1930s, Everything Is Fine pokes fun at society's elite while taking viewers on a fast-paced comedic romp that will leave audiences of all ages feeling fine.

DVD Extras include:

Remastered audio and video
Trailer
Restoration demo
Cast and crew biographies



This film is available with a Digital Site License (DSL), which allows colleges, universities, or libraries to encode, locally host, and stream the film to their community on a closed, password-protected system.

Rental Information
This film is available from AFD for public screenings and television broadcast. For information regarding rental rates and formats, please contact

[email protected]

for institutional/non-theatrical screenings, or

[email protected]

for theatrical, festival, television, or other bookings.