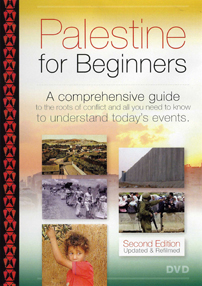 Type:


Documentary





Director:


Edward Mast & Linda Bevis





Year:


2007





Time:


72 minutes





Produced by:


Edward Mast & Linda Bevis





Written by:


Edward Mast & Linda Bevis





Edited by:


Edward Mast & Linda Bevis





Language:


In English

"I am determined to carry this message forward…"
-Mark B. Wilson

"The single most useful, concise, interesting, and complete discussion of the topic I have encountered…"
-Bruce Bowden





Completely refilmed and edited with added visuals especially for DVD, this new edition of Palestine Information Project's popular Palestine For Beginners is a fast-moving guide to the roots of conflict, key historical and current events, and the characters and motivations behind the ongoing crisis.

The 67-minute program is divided into segments and chapters for reference

Part One: Roots of Conflict (25 minutes)
Part Two: Occupation, Human Rights and U.S. Tax Dollars (28 minutes)
Part Three: Issues, Obstacles, Futures (14 minutes)

A Discussion and Classroom Study Guide is included as pdf on the DVD disc. The DVD includes subtitles in English.

This film is available with a Digital Site License (DSL), which allows colleges, universities, or libraries to encode, locally host, and stream the film to their community on a closed, password-protected system.

Rental Information
This film is available from AFD for public screenings and television broadcast. For information regarding rental rates and formats, please contact [email protected] for institutional/non-theatrical screenings, or [email protected] for theatrical, festival, television, or other bookings.

About the Directors:
Linda Bevis and Edward Mast have developed and presented Palestine For Beginners for several years, updating constantly as the situation changes. Linda Bevis is an attorney who lived for several years in the West Bank working with a human rights organization, and she taught World History at the high school level for many years. Edward Mast is a playwright and performer whose play Sahmatah, co-written with Hanna Eady, has been playing in the Middle East and Europe since 1998. Linda and Edward have done human rights work, together and separately, in Northern Ireland, Central America and the former Soviet Union, and in 2002 they were jointly awarded the human rights award of the United Nations Association of Seattle.

Linda and Edward are among the co-founders of Palestine Information Project, a Seattle organization which creates educational materials and presentations about human rights issues in Israel/Palestine and about the US role in the conflict.