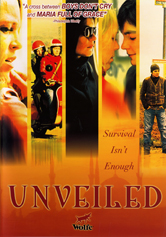 Type:


Feature Film





Director:


Angelina Maccarone





Year:


2006





Time:


97 minutes





Produced by:


Ulrike Zimmerman





Written by:


Judith Kaufmann & Angelina Maccarone





Edited by:


Bettina Bohler





Language:


German and Persian with English Subtitles

Fariba, persecuted in Iran because of her love for another woman, assumes the identity of a man to gain temporary asylum in Germany. She takes an illegal factory job where fellow worker Anne takes an interest in the strange foreigner. As the two become close, Anne begins to suspect Fariba's true identity – and both women face danger when authorities tell Fariba she must return to Iran.

Stars Jasmin Tabatabai (BANDITS) and Anneke Kim Sarnau (THE CONSTANT GARDENER).

Featuring the short EVERYONE, EVERYWHERE, highlighting the important work of the International Gay and Lesbian Human Rights Commission – narrated by Sir Ian McKellen.