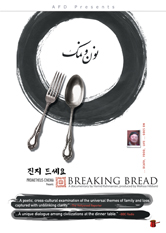 Type:


Documentary





Director:


Hamid Rahmanian, Melissa Hibbard





Year:


2000





Time:


84 minutes





Produced by:


Melissa Hibbard





Language:


English & Korean w/ English subtitles

"A must-see documentary."
– KPFK, Pacifica Network

"Centers around the themes of exile and assimilation at the turn of the
millennium... which adds up to movie making of very high order indeed!"
– L.A. Weekly



Breaking Bread is a slice-of-life documentary about a Korean-American family who invites an Iranian friend to make a final meal for their dying father. This poetic journey explores the interaction of different cultures through the celebration of an ordinary man. Through an intimate weaving of food and death, this travelogue-esque documentary provides a moving look at the realities we all face.

"...A poetic, cross-cultural examination of the universal themes of family and loss, captured with unblinking clarity."
– The Hollywood Reporter

"...A unique dialog among civilizations at the dinner table."
– B.B.C. Radio

DVD also includes these award-winning shorts:

The Seventh Day (Animation, 6 minutes, 1996) This award-winning animated film offers a social commentary on the story of creation according to the book of Genesis. In short, the Lord should not have rested on the seventh day.
Best CG Animation - Academy of Television Arts & Sciences' College Official Nomination, Student Category - Academy Awards
Best Animation - New York Int'l Independent Film & Video Festival

An I Within (Live Action & Animation, 19 minutes, 1999) In this metaphorical journey of redemption, a clown happens across the house of a marionette. Through pantomime, he tells the lifeless marionettes about the colorful life of the circus, where he has found eternal love. But it's a love that consumes the spirit of the clown and offers a sacrifice, giving life to the inanimate marionettes until all that remains is a dream.
Best Cinematography Award - Eastman Kodak
Best American Film - LA Short Film Festival

This film is available with a Digital Site License (DSL), which allows colleges, universities, or libraries to encode, locally host, and stream the film to their community on a closed, password-protected system.

Rental Information
This film is available from AFD for public screenings and television broadcast. For information regarding rental rates and formats, please contact [email protected] for institutional/non-theatrical screenings, or [email protected] for theatrical, festival, television, or other bookings.