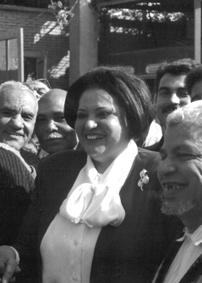 Type:


Documentary





Director:


Ateyyat El-Abnoudy





Year:


1996





Time:


70 minutes





Language:


Arabic with English subtitles

"El-Abnoudy has captured the tenor of a country on the verge of great political change." —Human Rights Watch

"Excellent film! Very helpful in understanding Egyptian women's increasing political role." —Elizabeth Ferne



In this landmark documentary, filmmaker Ateyyat El-Abnoudy records the successes and failures of the female candidates in the 1995 elections of the People's Assembly in Egypt.

Because of the tremendous lack of coverage that female politicians receive and the difficulty in contacting them, El-Abnoudy was forced to film for 20 days straight, crisscrossing the entire country in her search for interviews. Despite the ultimately disappointing electoral results, Days of Democracy is optimistic in its portrayal of Egyptian women and the role they are struggling to play in shaping their nation's future.

Days of Democracy features interviews with Soraya Labnah, Dr. Naglaa Kaliouby, Fathiya El-Assal, Ein El-Hayat Saleh, Amina Shoukry, Bosayna El-Tawell, Halima Abdel Rady, Sawsan Kilany, and more!

This film is available with a Digital Site License (DSL), which allows colleges, universities, or libraries to encode, locally host, and stream the film to their community on a closed, password-protected system.

Rental Information
This film is available from AFD for public screenings and television broadcast. For information regarding rental rates and formats, please contact [email protected] for institutional/non-theatrical screenings, or [email protected] for theatrical, festival, television, or other bookings.