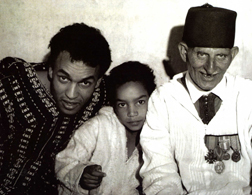 Type:


Feature Film





Director:


Steffen Pierce and Christian Pierce





Year:


2007





Time:


90 minutes





Language:


Arabic and Berber with English subtitles

"A wonderful film, melding as it does the best aspects of documentary and fiction." - Ross McElwee, director of Sherman's March and Bright Leaves



From the directors of the charming Moroccan documentary The Bride Market of Imilchil, this first narrative feature from Steffen and Christian Pierce was filmed over the period of three months in the Moroccan cities of Rich, Essouaira and Marrakech.

Inspired by the works of Tangier writers Paul Bowles, Mohammed Choukri and Mohammed Mrabet, the film features two brothers, Hammadi and Aziz, who set out in search of a life that offers more than the slow and repetitive rhythms of their rural village in Morocco's Atlas Mountains. After making their way to Marrakech, they encounter the endless drone of the city, congested traffic, snake charmers and even happen upon a Western film crew that wants to include them in their film. What does the future hold for these two brothers, with no jobs or prospects in a large city such as Marrakech?

This film is available with a Digital Site License (DSL), which allows colleges, universities, or libraries to encode, locally host, and stream the film to their community on a closed, password-protected system.

Rental Information
This film is available from AFD for public screenings and television broadcast. For information regarding rental rates and formats, please contact [email protected] for institutional/non-theatrical screenings, or [email protected] for theatrical, festival, television, or other bookings.