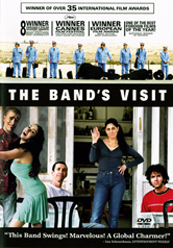 Type:


Feature Film





Director:


Eran Kolirin





Year:


2007





Time:


87 minutes





Language:


Arabic, English & Hebrew with English subtitles

Winner of 37 international film awards!

Winner! Best Film, Best Director, Best Actor, Best Actress, Best Screenplay & Best Supporting Actor
—Awards of the Israeli Film Academy

". . . a quiet, sympathetic film about the loneliness that surrounds us.
- Roger Ebert

"[The acting] is terrific, with everyone in perfect tune."
- Jay Weissberg

"A gentle, unpretentious comedy. . . "
- Andrew Pulver



This heartwarming and poignant winner of the Audience Award at the Munich and Warsaw Film Festivals is a mesmerizing and witty story of strangers in a strange land.

A fading police band, the Alexandria Ceremonial Police Orchestra, arrives in Israel to play at the Arab Cultural Center. Without an escort to meet them, they take the wrong bus and the band members find themselves in the desolate village of Beit Hatikva. With no other option than to spend the night with the local townspeople, the different cultures realize the universal bonds of love, music and life. Set against a breathtaking desert landscape, this cross-cultural comedy proves that getting lost is sometimes the best way to find yourself.