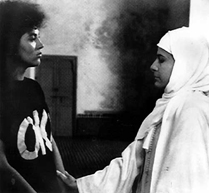 Type:


Feature Film





Director:


Farida Ben Lyzaid





Year:


1989





Time:


107 minutes





Language:


Arabic with English subtitles

"Shows us the Islamic religion and Arab women's issues with a thoroughness and bluntness and sympathy that seem genuinely surprising."
- Michael Wilmington, Chicago Tribune



Nadia, a young Moroccan emigre, returns from Paris to Fez to visit her dying father. At his funeral, she is overcome by the voice of Karina chanting the Koran. A powerful friendship develops between the two women as they decide to turn the father's palace into a Muslim women's shelter. A Door To The Sky is a Sufi tale told in a metaphoric language.

It is also the first North African film to address the social and economic changes as proposed by a spiritual Muslim woman on a quest to preserve her cultural and religious identity.

This film is available with a Digital Site License (DSL), which allows colleges, universities, or libraries to encode, locally host, and stream the film to their community on a closed, password-protected system.

Rental Information
This film is available from AFD for public screenings and television broadcast. For information regarding rental rates and formats, please contact [email protected] for institutional/non-theatrical screenings, or [email protected] for theatrical, festival, television, or other bookings.