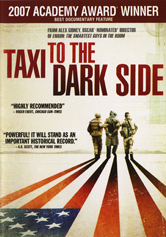 Type:


Documentary





Director:


Alex Gibney





Year:


2007





Time:


106 minutes





Produced by:


Alex Gibney, Eva Orner & Susannah Shipman





Written by:


Alex Gibney





Edited by:


Sloane Kelvin





Language:


English with optional Spanish subtitles.

Winner — Best Documentary Feature, Academy Award

"4 stars."
- Jan Stuart, Newsday

"Highly recommended."
- Roger Ebert, Chicago Sun-Times

"It will stand as an important historical record."
- A.O. Scott, The New York Times



Oscar-winning director Alex Gibney investigates the torture and killing of an innocent Afghani taxi driver in this gripping probe into reckless abuses of government power.

A disturbing, incisive and compelling documentary thriller, the Academy Award-winning Taxi To The Dark Side incorporates rare and never-before-seen images from inside Bagram Air Force Base in Afghanistan and the Abu Ghraib and Guantanamo Bay prisons into its exposure of the Bush administration's "global war on terror."

This stunningly crafted narrative demonstrates how this one man's life and death symbolize the erosion of all of our civil rights and how what it means to be a U.S. citizen has changed forever.