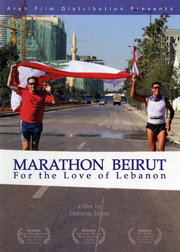 Type:


Documentary





Director:


Deborah Harse





Year:


2008





Time:


73 minutes





Produced by:


Deborah Harse





Edited by:


Richard Seebach





Language:


English & Arabic with English subtitles

Winner! Audience Award
- Chashama Film Festival

Winner! The Final Cut Award
- Lake Havasu International Film Festival



Despite the devastation and political upheaval in Lebanon after the July 2006 Israel-Lebanon War, the Beirut Marathon Association chose to move forward with their November event under the banner "For the Love of Lebanon". However, five days before the race government minister Pierre Gemayel was assassinated. The country then went into national mourning for three days, with thousands gathering in downtown Beirut to express their grief and call for unity.

After much deliberation, the Beirut Marathon Association again decided to go ahead with their event. When even further political hurdles and delays ensued, there was mounting concern that the Lebanese people might be fearful taking part in the marathon. Yet despite all odds, more than 22,000 people turned out to participate in the 5km, 10km and 42km races. In her insightful and inspiring documentary about the staging of the 2006 Beirut Marathon, director Deborah Harse sensitively captures the chaos, determination and ultimate rewards of keeping the annual Lebanese event alive in the face of seemingly insurmountable obstacles.

This film is available with a Digital Site License (DSL), which allows colleges, universities, or libraries to encode, locally host, and stream the film to their community on a closed, password-protected system.

Rental Information
This film is available from AFD for public screenings and television broadcast. For information regarding rental rates and formats, please contact [email protected] for institutional/non-theatrical screenings, or [email protected] for theatrical, festival, television, or other bookings.