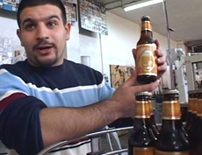 Type:


Documentary





Director:


Buthina Canaan Khoury





Year:


2008





Time:


27 minutes





Produced by:


Buthina Canaan Khoury





Edited by:


Saed Andoni





Language:


English & Arabic with English subtitles

The uplifting and inspiring story behind Taste the Revolution—a new documentary from award-winning director Buthina Canaan Khoury—is drawn from the filmmaker's own family history. After living in the USA for 30 years, her brothers Nadim and Dahoud returned to their homeland to fulfill their father's dream of establishing a business in Palestine.

After investing their education, experience and family money, they opened the Taybeh Brewing Company—the first micro brewery in the entire Middle East. In spite of numerous hardships and obstacles caused by the unpredictable and tumultuous life in Palestine, Dahoud and Nadim Khoury's business continued to thrive, serving as an inspiration to numerous other Palestinian entrepreneurs.

The brothers now sell Taybeh beer throughout Palestine and the Middle East and even to some bars and cafés in Israel. The brewing company's success has attracted international media attention which has in turn brought tourists to Taybeh, Palestine from around the world—people interested in tasting the revolution served up by the Khoury Brothers' Taybeh Brewing Company.

This film is available with a Digital Site License (DSL), which allows colleges, universities, or libraries to encode, locally host, and stream the film to their community on a closed, password-protected system.

Rental Information
This film is available from AFD for public screenings and television broadcast. For information regarding rental rates and formats, please contact [email protected] for institutional/non-theatrical screenings, or [email protected] for theatrical, festival, television, or other bookings.