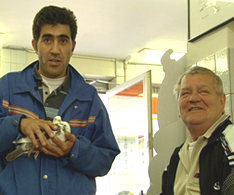 Type:


Documentary





Director:


Patrick Bisschops





Year:


2005





Time:


58 minutes





Language:


Turkish and Dutch with English subtitles

Official Selection! — San Francisco International Film Festival



Set within the world of pigeon racing, Patrick Bisschops' insightful documentary presents a microcosm of the racial tensions currently plaguing The Netherlands.

Turkish immigrants have been flocking to the working-class Transvaal neighborhood of The Hague in recent years, breeding resentment amongst the area's Dutch residents—especially the native pigeon enthusiasts.

Not only have the immigrants appropriated their hobby and encroached upon the local bird store, but they've also brought their own variety of pigeons, called "tumblers" because they turn in the air.

This film is available with a Digital Site License (DSL), which allows colleges, universities, or libraries to encode, locally host, and stream the film to their community on a closed, password-protected system.

Rental Information
This film is available from AFD for public screenings and television broadcast. For information regarding rental rates and formats, please contact [email protected] for institutional/non-theatrical screenings, or [email protected] for theatrical, festival, television, or other bookings.