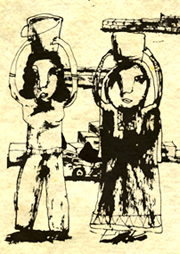 Type:


Documentary





Director:


Dahna Abourahme





Year:


2010





Time:


54 minutes





Language:


Arabic with English subtitles

"The juxtaposition of black-and-white animation, documentary footage and photographs, and everyday sounds accompanied by a simple and poignant melody of distinctive notes weave together to narrate the women's stories."
—Rania Jawad, Jadaliyya Magazine



The story of the women of Ein El Hilweh refugee camp between 1982 and 1984 is an important chapter in the history of Palestinian refugee women in Lebanon. After the Israeli invasion of Lebanon in 1982, the camp was destroyed and its men were imprisoned.

From director Dahna Abourahme (Until When...) The Kingdom of Women documents the organizing spirit of the community's women during this period—detailing how they were able to rebuild the camp and protect and provide for their families while their men were held captive. Using animation and scenes from daily life as it moves between past and present, the film focuses on seven of these women, honoring the contributions they've made and continue to make to the survival of the Palestinian community in exile.

This film is available with a Digital Site License (DSL), which allows colleges, universities, or libraries to encode, locally host, and stream the film to their community on a closed, password-protected system.

Rental Information
This film is available from AFD for public screenings and television broadcast. For information regarding rental rates and formats, please contact [email protected] for institutional/non-theatrical screenings, or [email protected] for theatrical, festival, television, or other bookings.