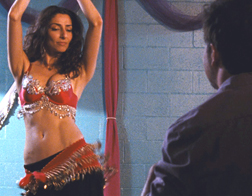 Type:


Short Film





Director:


Erika Cohn





Year:


2010





Time:


21 minutes





Written by:


Erika Cohn, Natasha Atalla





Language:


In English

This moving short film offers a portrait of the Lebanese-Israeli conflict as seen through the eyes of a Lebanese-American dance instructor, Nadia, and Amir, an Israeli Defense Forces pilot. Amir is called back to duty when fighting breaks out between Israel and Lebanon in the summer of 2006, forcing him to evaluate his moral objections to serving again. When Amir coincidentally meets Nadia at a local cafe and the two begin forming a relationship, Amir's decision about returning to Israel becomes even more complicated.

Meanwhile, Amir's best friend, Eli, returns to Israel to pledge his service to the Israeli Air Force. Nadia's sister refuses to leave her home in Beirut, the seemingly "safe-haven" of Lebanon, increasing their mother's emotional angst. Despite the powerful voices in opposition to the respective viewpoints of both Nadia and Amir, the pair are able to reconcile their differences…until Israel's bombs begin dropping on Beirut.

Watch the trailer:


This film is available with a Digital Site License (DSL), which allows colleges, universities, or libraries to encode, locally host, and stream the film to their community on a closed, password-protected system.

Rental Information
This film is available from AFD for public screenings and television broadcast. For information regarding rental rates and formats, please contact [email protected] for institutional/non-theatrical screenings, or [email protected] for theatrical, festival, television, or other bookings.