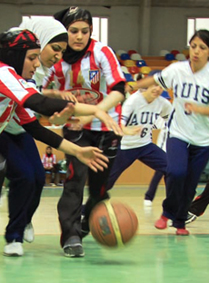 Type:


Documentary





Director:


David Fine





Year:


2011





Time:


82 minutes





Language:


English, Arabic, and Kurdish with English subtitles

Winner! Golden Plaque, Chicago International Film Festival

"A stirring example of the possibilities for young Iraqis outside the country's war zones." —Variety

"Of the majority of images and video to be coming from Iraq...SALAAM DUNK stands aside from the pack." —IndieWire



Basketball is much more than a game in David Fine's stirring documentary about an Iraqi women's basketball team at the American University of Iraq—Sulaimani (AUIS) in Kurdistan. For the young women on the team, most of whom have never touched a basketball or been allowed to play sports at all before, it is a blissful escape from the realities of living in a war-torn nation.

The team members come from a variety of ethnicities and sects—Arab, Kurd, Christian, Sunni, Shiite—but the joy they discover in playing together and the deep love they come to feel for one another and for Ryan, their young American coach, reveals an Iraq united in a way we've rarely seen before.

Watch the trailer:



This film is available with a Digital Site License (DSL), which allows colleges, universities, or libraries to encode, locally host, and stream the film to their community on a closed, password-protected system.

Rental Information
This film is available from AFD for public screenings and television broadcast. For information regarding rental rates and formats, please contact [email protected] for institutional/non-theatrical screenings, or [email protected] for theatrical, festival, television, or other bookings.