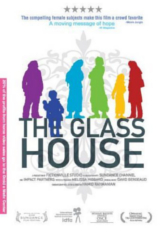 Type:


Documentary





Director:


Hamid Rahmanian, Melissa Hibbard





Year:


2008





Time:


92





Language:


Persian with English Subtitles

Winner! Best Documentary Feature - Urban TV
Winner Jury Award - Zagrebdox
Winner! Best Feature Documentary - Dallas VideoFest



"Superb cinema verité style. It deftly portrays a spirit of hopefulness."
– Variety
"A dramatic feature [constructed] around the forbidden stories of an ensemble of outcasts should not be underestimated."
– Screen Daily



The fringes of Iranian society can be a lonely place, especially if you are a teenage girl with few resources to fall back on. The Glass House follows four girls striving to pull themselves out of the margins by attending a one-of-kind rehabilitation center in uptown Tehran. Forget about the Iran that you've seen before.

With a virtually invisible camera, the girls of The Glass House take us on a never-before-seen tour of the underclass of Iran with their brave and defiant stories: Samira struggles to overcome forced drug addiction; Mitra harnesses abandonment into her creative writing; Sussan teeters on a dangerous ledge after years of sexual abuse; and Nazila burgeons out of her hatred with her blazing rap music.

This groundbreaking documentary reflects a side of Iran few have access to or paid attention to: a society lost to its traditions with nothing meaningful to replace them and a group of courageous women working to instill a sense of empowerment and hope into the minds and lives of otherwise discarded teenage girls.

DVD Features:

English, Arabic, French, German and Spanish subtitles of the movie
40 minutes of deleted scenes
A 20-minute interview with Marjaneh Halati, the founder of Omid e Mehr
Saman, A Short Story, a short piece about a transgendered woman taken in by Omid e Mehr

This film is available with a Digital Site License (DSL), which allows colleges, universities, or libraries to encode, locally host, and stream the film to their community on a closed, password-protected system.

Rental Information
This film is available from AFD for public screenings and television broadcast. For information regarding rental rates and formats, please contact

[email protected]

for institutional/non-theatrical screenings, or

[email protected]

for theatrical, festival, television, or other bookings.